Honey Boo Boo Child
Video Information
Uploaded
2012-08-08
Channel
The Young Turks
Views
4.412.429 [1]
Length
5:28
Host(s)
Cenk Uygur & Ana Kasparian
Segment
2nd hour
Honey Boo Boo Child
is the 10th most viewed vide on the main channel for The Young Turks with over 4 million views as of May 2013. This possibly the first of several videos when TYT talks about
Honey Boo Boo
, a 6 year old girl with a new reality show. Cenk and Ana discuss how clownish behavior is rewarded in today's America and how it makes them uncomfortable, Ana goes as far as saying that the mom a bad mom.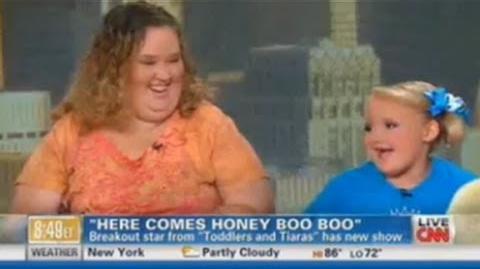 Video description
Edit
"The Toddlers & Tiaras star known as "Honey Boo Boo" after her personal catchphrase visited CNN's Starting Point Tuesday morning to discuss her new reality series and to debut a whole new slogan soon to be seen emblazoned on crop tops all across this great nation...".* Ana Kasparian and Cenk Uygur break it down on The Young Turks.
↑

2013-05-01
Ad blocker interference detected!
Wikia is a free-to-use site that makes money from advertising. We have a modified experience for viewers using ad blockers

Wikia is not accessible if you've made further modifications. Remove the custom ad blocker rule(s) and the page will load as expected.